Here I sit, cuddled up to my sweet boy, smelling his velvety hair, listening to his little growly squeaky breaths as he sleeps. Growl, growl, squeak, big sigh. Perfection. Life with him so far has been nothing short of heavenly. Every whiff of his head and kiss on his lips (that look just like his daddy's) is more intoxicating than then last. Every cuddle and long gaze in to each other eyes grows more sweet as we continue learning each other. He's ours, all ours and I have to keep pinching myself to believe it!
Being 9 days overdue was torture. I know that due dates are just guesses and I'm a firm believer that babies come when they're ready. I felt great physically (I'm a woman that thoroughly enjoys being pregnant) and had no problem staying pregnant and waiting until he was ready to come out and see us. What I wasn't prepared for was that the 8 days past my "due date" (and Google) gave me lots of time to start worrying and it also gave me lots of time to build up lots of extra aching and longing to hold my boy in my arms (a longing that I was already feeling in full force to begin with). On the flip side, being someone that enjoys being pregnant so much and loves carrying my baby so close to me, I was grateful that the extra days allowed me to stop feeling some of the sadness I was feeling about the pregnancy coming to an end and allowed the anticipation and excitement of him coming out to fully take over! It was a sweet, confusing, emotional last few days and Brett was my rock through all of it. Some of my favorite moments of our marriage took place in those last couple of days. He is such a joy giving, life breathing, "I'm with you" kind of guy. I do not say it lightly when I say that I want our boy to turn out just like his daddy.
Those last few days before Miles was born felt like they lasted forever and now all of the sudden he's somehow 7 weeks old and those few days feel like cute quick little fleeting moments. His birth that I prayed over for months has come and passed and this baby that I prayed over for months is cuddled in my arms and growing and changing daily, and it's all so sweet. I wouldn't believe it had been 7 weeks since that wonderful night if the calendar didn't say so but time is, indeed, moving right along. (Someone let me know if you've figured out a way to slow that whole time thing down). His arrival was so perfect, and beautiful, and I don't want to forget any little bit of that heavenly night. The night our boy was born.

It was Valentine's Day. We swapped sweet little gifts that morning, went to church, and then spent our eighth day past our due date at the ever-romantic Costco. We walked all of the aisles and tried to distract ourselves from the anticipation and antsyness with lots of food samples. I commented to Brett that I couldn't believe we had to grocery shop again already. I'd finished stocking up our kitchen, doing all of our laundry, and cleaning the whole house a few days before our due date thinking that it would surely be the last time I did all of those things without our baby boy in our arms. We were all ready… But there we were 8 days later with a basket full of dirty laundry and an empty refrigerator waiting to be restocked. Somewhere in a Costco aisle, I decided "oh well" it was all going to be just fine.
We headed home and were relaxing at the house when Brett announced that we were going out, jumping in the car, heading to the ocean, and finding some good food. The three of us grabbed jackets and were on the road. We headed to one our favorite burger spots in OB and scored a parking spot right in front of the restaurant (I was a little bummed to get such a good spot, as it meant I wouldn't get some extra walking in haha). I stepped out of the car and (as usual when I got in and out of the car) I got a really mild contraction.
It was just after 7pm and we headed inside to get a table. I climbed up on to my bar stool and felt another little mild tightening feeling. I didn't think anything of it as I had been having real, regular contractions on and off for over a week at that point. (The night before I had 30 second to 1 minute contractions every 7 minutes or so for 2 hours and the night before that I had contractions for over 3 hours anywhere from 2-10 minutes apart.) I did not want myself to start getting excited for no reason and quickly brushed the contraction off. I had a burger and fries to eat!
At some point towards the end of inhaling my burger, a wave of nausea hit me. I thought it was a little weird but pressed on anyway. I ended up leaving one bite on my plate. I couldn't finish it and, if you know me, you know that that is very abnormal behavior! We paid our bill and decided to take a walk to the beach. When we arrived at the restaurant I was bummed I didn't get more walking in but when we left, taking a walk all of the sudden seemed like the last thing I wanted to do. I figured I was just being lazy and I knew that, if I walked, a waffle ice cream sandwich and sitting to watch the waves waited for me. If you ever wanted to know what motivates me in life, it's ice cream.
We were in line for the ice cream and Brett was asking me what flavor I wanted. Standing there staring at all of my choices, I was quickly becoming aware of how hot and nauseous I was feeling. I still didn't think it was anything labor related considering those couple of contractions so far at dinner were so very mild and I'd been feeling them on and off already for days. We were nearing the front of the ice cream line and as I was answering Brett's question about flavors I had to stop as I felt another tightening coming on… this one was a little stronger, longer, and made me feel a little more nauseous and dizzy. It was over as fast as it came, Brett gave me an "I'm watching you" look, and confirmed "still nothing, huh?". Yep, nothing! Let's eat ice cream.
It was 9pm. We finished and Brett asked if I wanted to walk more. It was getting late, Isabella needed to go to bed, and I was feeling like I just wanted to be home and relaxing so we walked back to the car and headed home. I put Isabella down and lay there as she slipped off to sleep. I had one hand stroking her sweet face and one hand on my belly. I listened to her breathe and watched her little eyelashes flutter as I wondered how many more times I'd go to sleep with one baby in my arms. I lay there praying, soaking it up, and enjoying feeling both of my babies moving beneath the touch of my hands. It was a sweet emotional moment and I was locking every bit of it away in my heart. And then I felt another tightening.
I had decided to start timing these tightenings and wondered if they would fizzle out like they had the previous two nights. They were 30 second to 1 minute contractions lasting anywhere from 2-10 minutes apart… Just like the last two nights. I came out from putting Isabella down at around 10:30/11:00pm and Brett was giving me the "I'm watching you" look again. I assured him that it was nothing, still just false alarm contractions exactly like the past two nights. But I did decide to bring out my birth bag with all of my labor tools inside. Things were no more intense than they had been for the last week but I figured why not use them. It was good practice and some massagers and essential oils sounded nice anyway.
At 11:45pm I went to use the bathroom and had another contraction while in there. Something about that contraction was all too familiar and reminded me of Isabella's labor. I was no longer wondering, something inside me just knew all of the sudden that this was really it. I came out of the bathroom, stood in the middle of the living room, looked Brett straight in the eyes, and said, "This is it. We'll meet our baby tonight." He smiled a huge excited smile, came over to hug me, and then turned on some of my favorite worship music. I texted my sister excitedly and asked for prayer. It was 11:45pm.
At midnight, I asked Brett to take over texting my excited sister as I was trying to stay focused and relaxed and connected with Miles through and in between contractions. They were just starting to stay under the 5-minute apart range now but were still only lasting about 30 seconds or so and I'd still categorize the intensity level as mild to medium. In between contractions I asked him to send out a text to our prayer list. I was totally calm and was riding the waves of contractions smoothly but it was important to me to know that we were being lifted in prayer once things did get more intense.
Time started to blur a little as I sunk in to each wave and relaxed more and more. I sang quietly to the music playing, letting the lyrics, words of truth, and promises wash over and renew me. I'm made to do this. Lead me. Let me walk upon the waters. You make such beautiful things. Heavenly. Labor, birth, all of it. Heavenly. My body and spirit seemed so connected and yet completely separate all at the same time. I was so present and so very somewhere else in the same moment. Clarity, peace, strength, vulnerability. All of it so heavenly. Brett was right by my side rubbing my back, cheering me on, and being the most amazing partner and coach. I'm so thankful for his personality, devotion, tenderness, and the fact that he trains for and invests so much in his role on the day our babies are born. We bring these babes in to the world together. He's my favorite!
It was about 12:45am. I came out of my relaxed fog for a moment to talk to Brett. I knew I needed to relax even deeper but I couldn't stop thinking about the drive to the hospital. We drove to the hospital with Isabella while I was in transition (we arrived at 10cm and ready to push with her). I really wanted to avoid going through the stronger transition type of contractions while sitting in a passenger seat and bouncing around on a bumpy freeway. I told Brett that I felt like I could relax better if we just got the drive over with now rather than later. He loaded our packed bags and started closing up the house while I had a few more contractions. After those couple of contractions, something came over me and I all of the sudden really just wanted to be in the car and on my way. Nothing dramatic happened, it was just this instinctual and very strong desire. I told Brett that I really wanted to go now and that I was going to go get settled in the car while I was in between contractions. I may have thrown a "hurry up" in there;)
He grabbed Isabella from bed, she was buckled up and fast asleep in her car seat, and we were on the road. It was exactly 1am, only about an hour after I proclaimed that we were going to have our baby tonight…. And (unknowingly at that point) ONLY 22 MINUTES from the birth of our perfect baby boy! I know the exact time because I timed the last contraction I had right as we left our house on my timing app. and I know that the next one to come was strong enough that I stopped worrying about timing from there on out.
The next contraction… It happened as we were turning on to the very bumpy, very twisty freeway on-ramp by our house. In all of the times I've driven on that on-ramp, I've never noticed how bumpy it was until I drove it while having a contraction. My low relaxed humming turned to a quick growl and I asked Brett to do whatever he had to do to avoid making the car bounce like that again haha! That single contraction bumped me up slightly over the mild/medium intensity range and I went deeper in to that relaxed and focused birth fog as I started riding the next waves of contractions. Brett likes to laugh at the memory of me talking out loud at this point. I was saying "it's ok, everything is ok, we're calm, were on our way, we're going to make it, we're going to do this". Brett piped in to respond to my words and that's when I realized I was talking aloud. I rubbed my belly, I wasn't talking to him, I was talking to myself and Miles. The breaks between contractions were getting a little shorter but were still there. I kept my eyes closed the whole ride and remained relaxed and focused. All I knew about the outside world was that we were flying down the freeway. I have no clue how fast we were going but I think that Brett sensed things were getting close and picked up the speed. Brett's not usually a speeder (neither am I) but I really didn't care how fast we were going. I remember saying to God, I know you've got this. And thinking, we're safe, speed as much as you want Brett!
A little ways in to the drive, I opened my eyes to peek out and see how close we were and Brett confirmed out loud as if reading my mind, "we're almost there".
We were a few exits away when a contraction happened. They'd gotten stronger throughout the drive and at the very end of this one I felt a really tight squeeze followed by a quick low stretching sensation. Immediately, I recognized that sensation and reached my hand over and placed it on Brett's arm and calmly said, "Babe he's coming now. We're going to arrive pushing so be ready". I felt completely calm, joyful, and excited. I settled in quickly for another surge and at the end of this one that stretch sensation didn't come and go, it came and stayed. I peeked and saw that we were off the freeway and moments away from the hospital and I was filled with so much energy, excitement, and complete and total peace. We were having our baby, right now! I wan't in excruciating pain, in fact I don't know if I'd call any of it pain so much as pressure and intensity. I was riding out each wave and surge as it came and resting in between. My body was taking over and doing it all on it's own, and it was absolutely amazing me!!
We pulled in to the loop right in front of the hospital doors and Brett flew out of the car to grab me a wheelchair. I (having my eyes closed) didn't realize that Brett had run inside and I started talking to him (not knowing that he wasn't there) and telling him that our baby's head was coming out and I really needed him to pull my pajamas down so I could *ahem*, you know, let the rest of him out! All of the sudden Brett had my door open and was telling me that he'd gotten me a wheelchair. I reached out to grab his arm and tried to open my deeply relaxed eyes to tell him again, "we don't need a wheelchair, he's here, he's coming now! And I NEED you to pull my pajama pants down!". He admits that he thought I was just feeling a little panicked (typical sign of transition) but being the sweet man that he is, he obliged and helped pull my pajamas down. Aaand that's when he saw his son's sweet little head;) He was off like a flash to tell the security guard nearby that we wouldn't be going up, we needed someone to come down. He came back to me right as the rest of our boy made his way out and I pulled him up on to my chest. At that same moment, a group of nurses arrived to help.
It was 1:22am when I heard the most wonderfully beautiful cry escape the lungs of our son. He was here. He was here! I was SO happy. There truly isn't anything better in life than your seconds-old baby on your chest… Hi baby! Oh, hello! What do you look like? I recognize those lips! Those are my eyes! Look at that hair! Your fingers are so tiny. You're so tiny. Look at those long fingernails! Look at all of your fuzz. Fuzzy ears, fuzzy sideburns, fuzzy shoulders, fuzzy back, "oh Brett, look at his little fuzzy booty!". I think I gave birth to you two and a half years ago, you look just like your sister! I love you. I know you. We did it baby. We did it. You're mine. You're mine. You're mine. It's ok, you're ok, we're ok. We just did that, together. It's finished. I don't know if I want to do that again. Oh man, I just want to do this again and again and again!! This is it, this is what living is. I love you, my boy…. There was so much buzz happening around me but it was all in slow motion and muted. I could only look at his face and think, "I love you". I was so ecstatic, and calm, and just…. floating.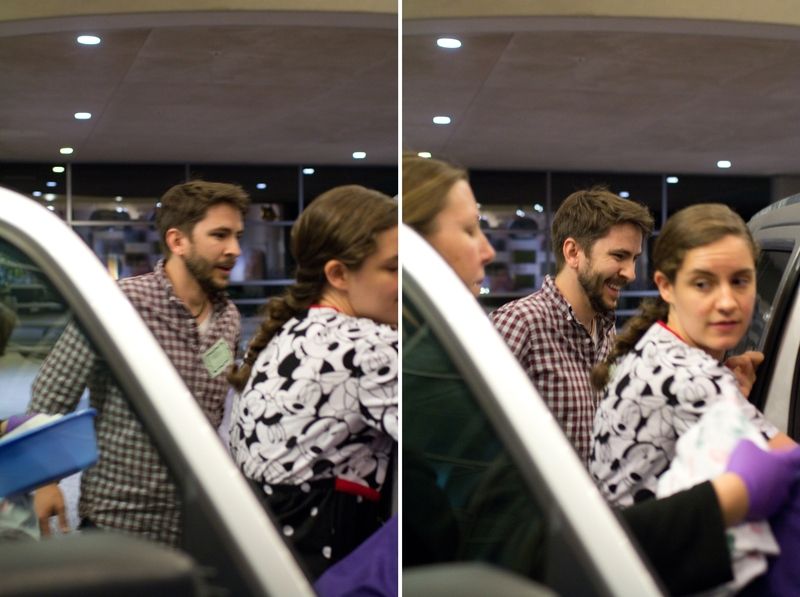 "He's here!"
I finally got in to that wheelchair Brett had grabbed earlier… except that we were entering through those hospital doors with our baby in my arms, instead of in my belly as planned. I looked at Isabella, who I'd peeked at a few times since we'd arrived and she was still staring and grinning from ear to ear like she had been every time I peeked at her. "Her baby" was finally here! We made our way over to the elevator, receiving "congratulations" as we went, I thought about how backwards this was to be getting congratulations on your way IN to the hospital and laughed at the hilarity of it all as the elevator doors closed. Up we went to "labor and delivery"!
He made us wait a little before he made his grand entrance but boy was he worth the wait! It wasn't our plan to have him in the car but it all ended up happening so perfectly. I wouldn't change one thing about his labor and birth even if I had the chance. I felt so connected to him and in tune with my body throughout the process. I had total trust and appreciation for the journey. I had no fear and, although my environment seemed a little wild, he arrived in total peace, gently, and beautifully. There was no pushing, or talk of dilation numbers, or coaching. It was just me and him, a team. It was one of the most beautiful experiences and I wouldn't trade any of it for the world!
The hours that followed were filled with nurses, cuddling, laughter, monitors, smelling that newborn smell, those blessed hospital ice chips, running my lips back and forth over his velvet newborn hair, tears, warm blankets, nursing (he got to nursing straight away and has been great at it ever since. Big baby boy was hungry!), that wonderfully squishy hollow belly feeling (I love that), calls to family, ice cream, visitors, diapers, gifts, celebrating, and lots of staring at this sweet new face. It's amazing, really. When we were talking about having a second baby, I wondered how I could love two with the same amount of love I felt for Isabella. I surely must have to divide Isabella's portion of my heart in to a smaller piece in order to make room for a second baby to love, I thought. But the second I held him in my arms, my heart expanded. I instantly felt as much for him as I feel for her. How had I ever been walking around with a heart so small?
The next day after visitors had left, I sat and stared at my baby. I recalled all of his wiggles and kicks I'd been feeling for months, all of the times I heard his heart beat, all of the times I imagined holding him. I sat and stared at him. Here he was. He was more awake and alert than he had been so far and his eyes were wide and staring straight in to mine. We stayed locking eyes for quite awhile and tears rolled down my cheeks as I wondered how life ever existed without him. How I ever existed without him. Nothing made sense without him anymore. Miles David Pepin. 9lbs 2oz of perfection.

(My mom, understandably, arrived right after Miles was born haha! We all thought we had a little more time!)

(cracking up over everything that just happened. Note Brett's upside down visitor sticker HAHA. They made him put one on in the middle of everything.)

Dear Miles,
I prayed so often over your life. I remember having a dream about being a mother, years ago (before babies were even on my radar), and in my dream my baby happened to be a boy. In that dream, I felt what it felt like to love like a mother loves and I woke up with so much excitement to one day meet my babies and also to meet that boy. Over time I've wondered about the people my babies would some day become and when I found out you were on your way and that you'd be our son, I began praying for your life. I prayed that you'll be a gentle, gracious, merciful man of God. With a brave heart, full of so much love and justice for people. Oh, my Miles (merciful, gracious, soldier) David (beloved, friend, a man after God's own heart), I've dreamed of and prayed for you for so long and I love you more deeply than I can ever find words to express. You'll never have to do anything to earn my love, it's yours sweet boy. I'm always your biggest fan and am so excited to see what is in store for your life. In all things, know that you are known and loved deeply and unconditionally, by me, by your daddy, and even more so by your savior. You're so wonderfully made and have so much value and purpose. You're already one of my favorite people I know, I'm already so honored to know you. I love you, baby boy. Love, Momma
(first diaper change!)

Going home with our little guy! (…returning to the scene)

FAQ haha:
"What happened to the car?!"-
Once we were settled in to our hospital recovery room, we had the same thought. Oh no, the car! Who will ever want to detail that sort of mess?! Brett went to inspect the situation and happily reported back that we got by without a hint of uhhh "mess" lol. Thankfully we had the foresight to line the seat with multiple layers of towels before we left the house. My water hadn't broken yet (and never did. He was born partially "en-caul" (still inside the bag of water) and it burst as the second half of him was coming out) so we lined the seats with all of hose towels in preparation for a possible flood on be way to the hospital haha. It's safe to say, those towels were immediately disposed of so not to fear future house guests! 😉
"Who had Isabella?!"-
The plan was always for Isabella to be at her brother's birth. My sister was set to be there waiting at the hospital when we arrived so that she could take care of Isabella while B was my partner during labor. She was waiting at the front when we got there. What she didn't expect was for the car to pull up, doors to fly open, and her nephew on the way out! Isabella was awake, happy, and calm in her car seat in the back seat and my sister took her out and brought her over to see her brother arriving. She was ecstatic and grinning the whole time! (Fun fact: Before she got Isabella out, she checked on me and asked what she could do. With eyes closed I lovingly replied something along the lines of "stop talking" haha! I was definitely in my zone at the point.)
Who was taking pictures?!-
The plan was always for our dear friend, Carley, to be there when we arrived and take some photos of the labor and birth. What she didn't expect was, again, for the car to pull up, doors to fly open, and our baby on his way out! She went straight in to action mode and started taking photos! (Fun fact: she stopped to help Brett get my pajamas off in the car before the nurses got there. God bless her! If I didn't love her before, I sure love her to the moon and back now!)