With so many beautiful pictures from our wedding I think the best way to post them is moment by moment instead of one giant post with picture after picture. Time is continuing to go by and before the all sweet details begin to get a little fuzzy and forgotten I want to make sure I document the feeling and memories behind each moment. So here it goes… getting ready.
The day had come. After months of planning and preparing the countdown ended. I was awoken by my mom for the last time, in my bed cuddling with the dogs for the last time. The house was loud and my room was flooded with sunshine. It was time. I arranged the last boutonnieres and corsages in the kitchen while my mom cooked us breakfast. We sat down one last time as a family of 6 under one roof and ate together. Soon after my bridesmaids arrived and the festivities began. All of the girls piled into the car and made our way to the nail salon. As I sat with my feet soaking in the warm sudsy water I savored the moment. Surrounded by my 2 best friends, my sisters, and my mom I thanked God for His blessings. My thoughts turned to Brett. What was he doing? How was he feeling? I later found out he was secretly running around tying up loose ends that he knew I would stress about if I knew of them.
With freshly polished nails we headed home to load the car and make our way to the farm. After a few mishaps, one involving locked keys in the car, I was feeling overwhelmed. My wonderful mom and bridesmaids were such and encouragement and I quickly snapped out of it. We arrived at the farm and immediately started makeup. (Rachel Dixon did my makeup and she did an AMAZING job). After makeup we started on my hair. Being pampered gave me some more time to reflect and enjoy the moment. Leah Vis (our photographer) arrived and it was time to get dressed.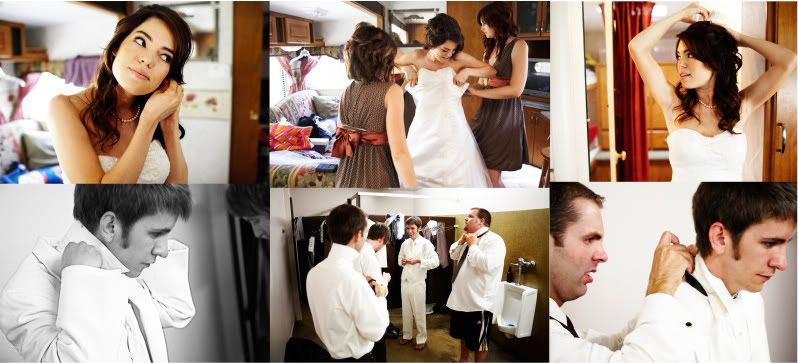 I looked in the mirror and it all sunk in. I was a bride.
We were waiting in the trailer when we received a knock on the door. It was Brett's brother Brian and He had come to deliver a gift from Brett. I opened his letter and soaked up his loving words. I was filled with warmth and peace as I was reminded of the kind of man I was about to marry.
Then.. I opened his gift. A new lens!! I've had my eye on this lens for a long time. I was so excited:)

Brian returned to Brett and I waited patiently in the trailer with the ones I love. Soon after, Leah called Rob (who was with the boys) and told us it was time. Brett was ready and we were about to see eachother for the first time.
More on that in the next post!