This weekend has been a delicious one. Friday night we went on a date to Sushi Deli (Our fav sushi spot), yesterday we made homemade calzones that were definitely drool-worthy, and today we went to the Hillcrest Farmer's Market. The farmer's market was like they took everything that I love and placed it in rows and rows of dreaminess offering me free samples as I walked by. It was divine. Anyway, speaking of drool and food, I thought I'd share my famous cinnamon roll recipe! They're the perfect weekend morning treat, or midnight snack…. or lunch, or dinner..
The other night I made a big double batch of these lovely rolls! I like to call them, sinnamon rolls and you'll see why if you make them;) One word: Butter.
The recipe is for a single batch (about 2 tins… approx 15 rolls). The people in my life drool over these things so I made a big double batch to spread the creamy dreamy love!
I know anything with homemade dough and yeast can be intimidating but trust me, these are fool proof! And trust me, you will die when you taste them! I could just drink that cream cheese frosting. Kinda gross, I know.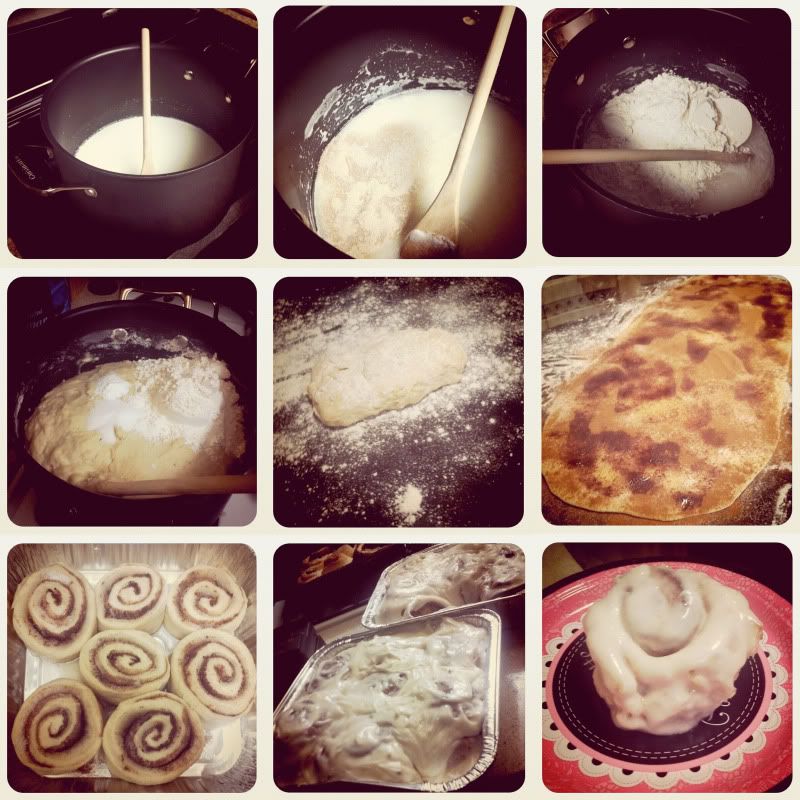 Rolls:
4 cups flour (plus 1/2 extra cup seperated= total of 4 1/2)
1/2 cup vegetable oil
1/2 quart whole milk
1 1/2 cup sugar (1/2 cup for dough, 1 cup for sprinkling)
1 package of fast rising active dry yeast
1/2 tsp baking powder
1/2 tsp baking soda
1/2 tbs salt
approx 1 1/2-2 cups butter
lots of cinnamon
1. Combine oil, whole milk, and the 1/2 cup of sugar in a big pot. Bring it to a simmer then turn off the heat.
2. Let the mixture cool until it's warm to lukewarm (not hot!). This can take about 45 minutes.. go run around the block so you don't feel any guilt as you devour multiple rolls later.
3. Once warm to lukewarm add 1 package of yeast. Stir it around and let it get all warm and happy.
4. Mix in 4 cups of flour, cover the pot, and let the dough rise for about an hour.
5. When you come back it should be all puffy and delicious. Add 1/2 cup of flour, 1/2 tsp of baking powder, 1/2 tsp of baking soda, and a 1/2 tbs of salt. Stir.
6. Your dough is done!!! You can either A) refrigerate the dough until needed but keep an eye on that rising little sucker… It's alive! (I wouldn't refrigerate it longer than a day or 2.) or B) continue making those rolls… step 7
7. Cover a large surface with flour and roll your dough into a very long rectangle. (I find it's easaier to form your dough ball into a dough rectangle before you even start rolling)
8. Pour about 1/2 a cup to 1 cup of melted butter all over the surface of your rectangle.
9. Sprinkle about a cup of sugar on top of the butter and sprinkle a generous layer of cinnamon all over the top of that. (Aren't you glad you ran around the block earlier?!)
10. Start at one end (on the long side) and roll toward you (moving down the long side as you roll). When the whole dough rectangle is finished being rolled pinch the seam together. You should have one long dough snake:)
11. Cut the rolls about an 1″-1 1/2″ thick and lay them in a heavily buttered baking pan. (I pour a little melted butter all over the bottom of each one… you're wishing you ran a little longer now huh?)
12. Pop those babies in a 375 degree oven for about 15-20 minutes or until the top gets a nice golden brown. (You can check for doughiness by poking a knife in between the layers and taking a peek).
Frosting:
8 oz Butter (2 sticks/ 1 cup)
8 oz Cream Cheese (1 brick)
16 0z Powdered Sugar (1 box)
1 tsp of vanilla
1 tsp of lemon juice
1. Combine the softened butter, cream cheese, lemon, and vanilla
2. Add the powdered sugar… (maybe you should go run a round the block one more time)
3. Take a taste then go scoop it on to those hot delicious rolls!
I hope you make these things. They are divine!
P.S. Don't forget to comment on my last post to get a chance to win a headband! I'll choose the winner tomorrow morning:)