I'm sure we have a ton more to learn about traveling the way we did but we did learn a few things along the way that will make our next adventure like this much easier. I'll save you from learning the hard way and give you my….
7 ways to an awesome summer living in Europe:
1) Savor!-
Obviously I'm a shutterbug and wanted to pull out my camera at every moment but I always kept it put away at first and I'm so glad I did. "Savor the flavor" is what I called it:) I forgot about photos and any expectations and simply observed and absorbed when we arrived in a new place. Too often so many tourists arrive at a place, pull out their cameras and get the stereotypical picture, check it off their list and move on… but I tell you this I never would've have noticed or remembered the perfectly red little jars of cherries in the blue window of an alley in southern France, I never would've noticed that the entire front of the ancient church in our little Tuscan town in Italy was made up of thousands of tiny little glass tiles smaller than my thumb nail, I never would've met that man who started a fire and cooked us bruschetta while telling us about his family history. Stop, put your camera down for awhile, and look around. Live out the moment your actually in… don't let the camera tell you about it later. Oh and I bet the pictures you do take will be a thousand time better because of it:)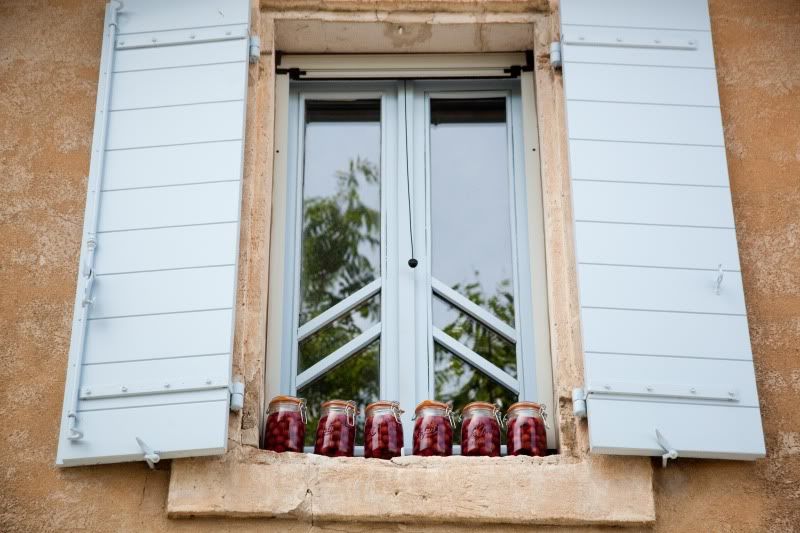 2) Rest-
Don't be afraid to lose sleep. You'll make up for it later:) If a night walk is just calling your name and you have an early morning the next day… well, sleeping is for babies! Go take that night walk you're in Europe! Oh and don't be afraid to get sleep. You're in the land of siesta! At first we thought a "siesta" was a waste of precious sight seeing time so we bull dozed through it. Then we quickly realized that in a lot of places everything is closed and there is nothing to do… and maybe, just maybe they're on to something with this siesta thing. We LOVED our guilt free siestas. Europe on high speed like we did it would've been a completely different trip if we didn't siesta.
Rolling carry ons for days on end is not pretty. You and your hands need rest!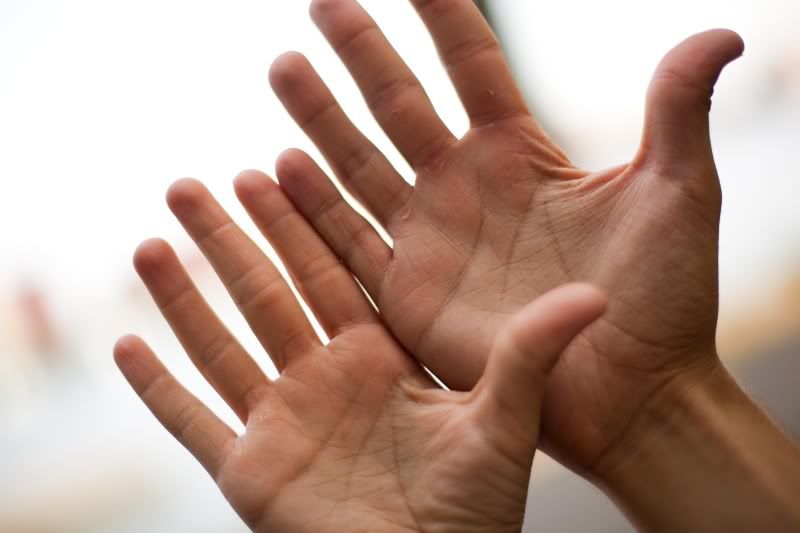 3) Expectations-
Oh expectations… do yourself a favor and lose them. Yes, dream about your travels and plan and research but hold them loosely once you get there. Things will cost more than you expect some times. Things will happen that you didn't plan for. Some places will be nothing like you imagined them. Sometimes food will be nothing like you wanted it. And it will all be easier if you just let go, roll with it, and except it for what it actually is:)
4) Being A Tourist-
Be one and don't be one. You are not at home, you are a guest in someone else's country, don't expect everyone and everything to cater to you and what you're used to. Isn't that part of the adventure? That's what I would think but after meeting a handful of very unpleasant tourists (*cough* Americans *cough*) who cussed out, laughed at, ordered around locals or got angry that they wouldn't speak English… I beg you don't be a tourist. People will speak other languages in other countries and a smile and learning a few very basic words goes a long long way. If you are worried about tap water watch other tourists to see if they're drinking it. Don't be lazy. You can figure out a lot of your questions if you just take some time to be observant. I promise you, thinking a little and familiarizing yourself a little first is a lot easier and goes a lot smoother than trying to ask a jumbled question to someone who speaks a different language. I know being a tourist can be frustrating and overwhelming which is why I also say be a tourist. Accept that you will be frustrated, that people may get frustrated with you, that you stand out, that you are confused 90% of the time, that some days you are just sick of how much work it all is, that you may cry on the corner of a street in Paris because you've been lost and rolling your luggage through a crowd of drunk, high, and naked people for 2 hours. You are a tourist and that's ok:)
B giving in and embracing his tourist role at a very confusing bust stop. McDonalds drink, Rick Steves book, Farmer's tan, neck pouch and all!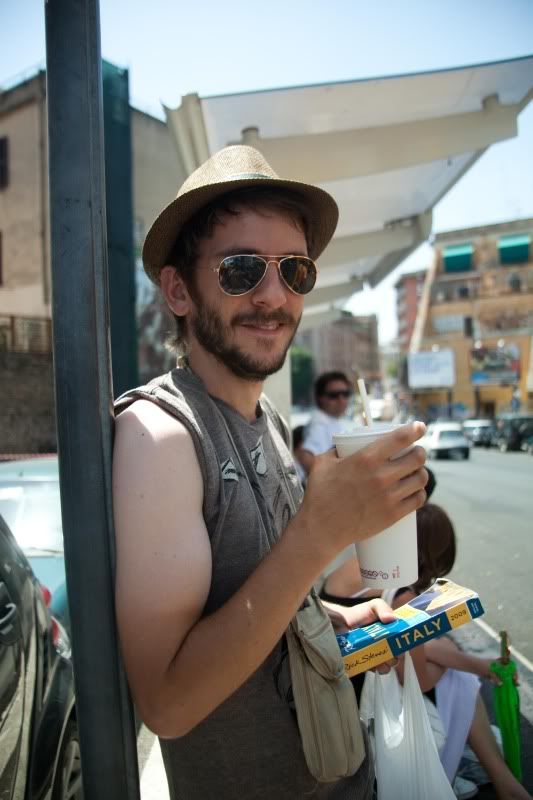 5) Traveling with your spouse-
Traveling like we traveled for as long as we did it is not a vacation and it is often not relaxing. It is living day to day life in another place. People asked if we won the lottery because we were taking such a grand vacation. I think people picture a month in Europe as a swanky affair. I'm sure it is for some people… awesome to be them. Unfortunately we're not them. For us to take a trip like we took it involved eating off the street, sleeping with 12 other strangers in dirty hostels, rolling our luggage with us for miles and miles, going un-showered for days… it was not easy and it was not glamorous. It was the best adventure we've ever had together don't get me wrong but it takes some learning and time to figure out how to make it work. Your patience is tested, your comfortability is ripped away, you're hot, you're dirty, you're lost, and sometimes you get grouchy… and sometimes you take that grouchiness out on your partner. Accept and expect that things will get tense and attitudes will flare and extra grace will be needed. Because the search for food can be grueling start it early before you ever get hungry. Also, don't be afraid to call a time out before your conversations get too grouchy. It's ok to walk in silence for awhile… especially when you're together 24 hours a day and are often the only people you can communicate with. Forgive quick and easily so you can move on and enjoy the amazing adventure you're on together:) Traveling with your spouse can be one of the best things you ever do together! This single trip has brought us closer, has taught us so much about each other, and has turned us in to a great team!

6) Safety-
Relax! Not everyone is out to scam you or steal from you. After hearing horror stories I was a little too paranoid at the beginning of the trip and was often paying more attention to who was around me than what I was looking at. Don't do that. Yes there is real danger. Yes you need to be smart. Yes watch your back and belongings. But confidence, awareness, common sense, and eye contact works wonders:)
7) Packing-
Lastly, pack light! No, seriously, I mean really light. No that's still too much, cut that in half, go even lighter. Only take what you know you will need beyond a reasonable doubt. You don't need a first aid kit. You don't need more than 2 pairs of shoes. You don't need tweezers. We lived for a month out of one carry on each. Yes we stunk sometimes. Yes we bought some more toiletries there as we ran out. Yes we had to do laundry once. But we never needed anything we didn't have and trust me if you're going to be hopping through 6 different countries you do not want to be paying all those checked baggage fees! My best tips for packing: Bring clothes that are all in the same color family so everything can be mixed and matched. Bring clothes that can be worn multiple ways (dress in to shirt, leggings in to long johns, sweater in to long sleeve under jacket). Bring a pashmina scarf shawl thing (one of those thin trendy scarves everyone wears). That scarf was the most useful thing I brought! Keeps you warm on a plane, shades you, covers your shoulders so you can go in to a church, fans you when you're sweaty, wipes your sweat, can be used as a glove to keep from touching gross things… the list goes on and on. Pack light. It's so much better to have less to worry about:) And it's fun to realize how little you really need to live off of.

That's it! Those are my reflections and tips. I suppose this is the closing of our Europe chapter. If anyone ever has any questions or wants any advice please ask! We love talking about all of this stuff:) Thanks for following our adventure!