I was a little nervous to fly alone, across the world, with a one year old. I had no idea how it was all going to turn out and was so thankful when we touched down in Rome that it was over and had gone perfectly! She slept the entire flight from San Diego to London (minus the first twenty minutes where she managed to both choke/throw up on me and also rip a very large/audible fart for all to hear before passing out asleep). That's ok, I'll take it! She slept half of the flight from London to Rome and spent the other half playing with me (and reaching out to touch the occasional neighbor. Thankful for nice neighbors!).
We hadn't seen Brett in 9 days and were so anxious to meet him! I went straight to baggage check to grab our car seat and get the adventure started! Unfortunately, after waiting a long time, I used my broken Italian to attempt to speak with an employee and figure out where our car seat was… Eventually I learned that there was a huge luggage mishap in London and our car seat was (and still is) lost somewhere in the world. Bummer. But sometimes trips like these have bumps and we just had to move on and believe it will all work itself out!
The luggage fiasco took awhile and we missed the last bus in to Rome so we grabbed an (expensive) shuttle and strapped Isabella to our laps as we sped down bumpy roads and curvy freeways. It was an interesting start to the trip but we were all safe and together and so excited to get our feet on the ground in Rome.
It was after midnight when we got to our room and dropped our luggage. The normal thing to do would've been to get some rest and go to bed but the Pepin thing to do was to go for a walk and look for an open gelateria!! So we did.
Rome at night is absolutely incredible! The artists, the food, the romance, the glowing buildings, the shiny cobblestone streets, the warm air, and the cool sparkling water pouring from gorgeous fountains… It is quite a sight. We've seen all of Rome's main attractions a couple of times and didn't have much reason to come back this trip but we had to just to get a couple of night walks in.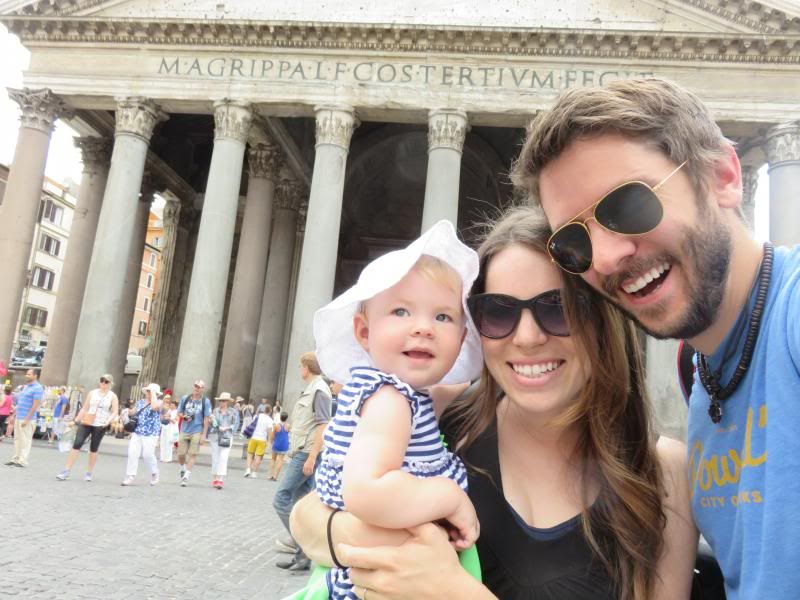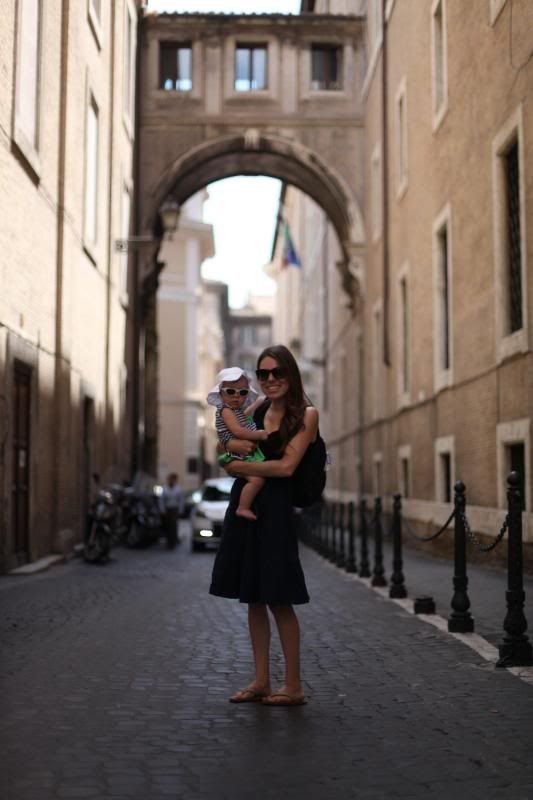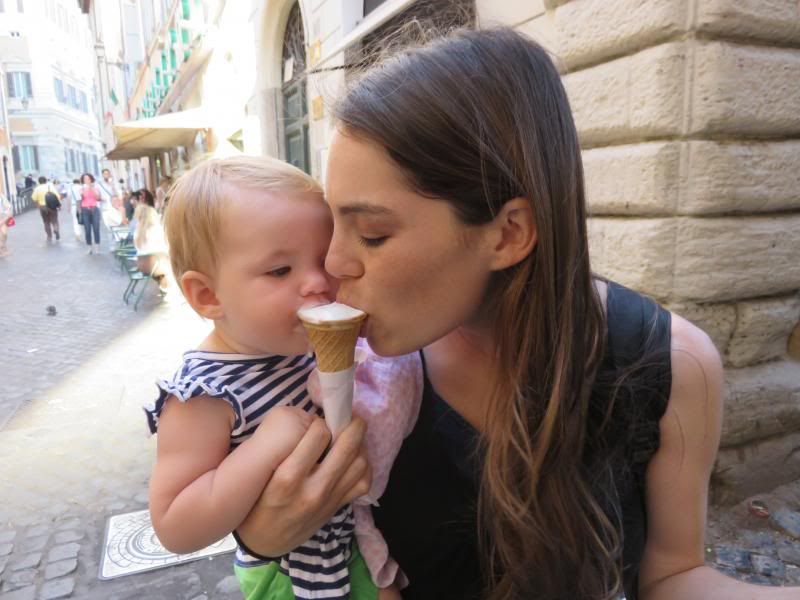 After Rome we headed to the beautiful Tuscany. We chose to visit some new towns. Our first stop was in Florence. I was surprised to see McDonalds and so many other big city shops. We had only experienced the small hill towns of Tuscany before this trip and the only shops in those towns were local family owned places. We walked around, saw the David, and sampled some gelato and pasta too. We were only in Florence a few hours and then we decided to move on to our Tuscany home base, Siena.
As our bus wound through the streets and up in to Siena, I watched out the window and was quickly realizing how much I was going to love it here. By the time we got to the town's center, I wanted to push everyone aside and rush out to to start exploring and seeing. I already knew I loved it here!
We checked in to our room and got our bags out away. It was Isabella's first birthday that day and we couldn't wait to get out and start exploring and celebrating! Siena was the perfect place for her birthday to land. It's small, quaint, clean, beautiful, and overflowing with good food and kind people. We headed to the main square first. We squeezed through a small alley and stepped right in to the magic. It was as if we stepped back in time. We looked up and saw countless bats soaring high above, we looked down at the fresh dirt beneath our feet ready for the town horse races that were to take place in a few days, diners chatted and sipped wine along the outer edges, and families were relaxing and laughing together on the cobblestone center in the shadow of the ancient ringing clock tower. The sun was beginning to get lower in the sky and everything had that warm Tuscan glow. Perfection. We had arrived in perfection.
We joined the relaxing and laughing families in the center and let Isabella roam the cobblestone. It was her birthday and hands and knees can be washed! She had a blast spotting all of the pigeons and dogs and had her own little audience as she squealed and giggled her away around the square.
We decided to take a little walk around the town to see what other spots we could find. Getting out of the main squares and traveling the back streets are some of my favorite travel moments. We came across families celebrating, couples hanging laundry out the window together, and kids playing. We passed ancient orange brick walls, beautiful churches, and every now and then we'd reach the end of a street to find a stunning Tuscan wine country view. I could live there.
We made our way back towards the main square and found a tiny family owned restaurant that hand makes the pasta fresh. We decided that was a perfect birthday dinner spot for Isabella and stepped inside. I packed her a special birthday bib and we let her loose on a pile of spaghetti. We had so much fun eating, reminiscing about the day, and celebrating our sweet little lady's life!
After dinner we made our way straight to the Gelateria for some birthday gelato! Isabella got strawberry and, on the steps of a centuries old church, in the middle of Tuscany, we sang happy birthday to her. In all of our traveling and adventuring we've done together she is, hands down, the best thing to happen to us. I would trade in everything else just for one day of life with her. This little girl is the best gift and we are so thankful she's ours!!
On our last day in Tuscany we picked out a little birthday present for Isabella and stopped in Pisa to see the leaning tower before heading to the Riviera. I've never cared much about the leaning tower but since we were going to already be passing it we figured we may as well see it. I am SO glad we did!! I did not expect to love it so much! It leans. Like, it really really leans. There's no way to understand the oddity and fascination of it until you see it. I was in awe. Since our first big trip, we've referred to moments such as these as "Big Ben moments" (because Big Ben was the first time we experienced this sensation). How am I really standing here in Italy staring at the leaning tower of Pisa?!