I love a good adventure in the city, but only for a little bit and then I need to get back to some open skies and fresh air. As I get older I'm realizing that this is just how I'm built and I'm surprised at how much I'm effected by it. We had the sweetest time in Paris. That city is so rich in culture, beauty, and passion. From the moment we climbed the stairs out of the metro station and I saw blue skies and Parisian rooftops peeking back at me, to our last morning eating pastries at the Boulangerie, I was in love. But I was also ready to say farewell and head to the country.
The next stop on our adventure is an area called Alsace. It's 1 part Provencial France, 1 part Bavarian Germany, and 1 part Napa Valley. It lies right on the French German border and is absolutely breathtaking!
On our first day we decided to cross the border in to Germany and see some of the Black Forest. We found a cute tiny little town called Gengenbach and decided to explore a little. We happened to show up right as their town festival was starting! There were traditional dancers, music, clothes, and food. They weren't putting on a show for tourists or trying to act authentic… They WERE being.authentic. Authentically German and authentically having a blast with each other! We were definitely out of place and the only tourists, AND the only people who didn't speak German! We laid low and watched with grins on our faces. Oh and, of course, we stuffed ourselves silly with all of the homemade brats, pretzels, and beer they were making.
We finished our time there by taking a little walk around the village, playing in a nearby park, and spending some time in the Black Forest. We got such a wonderful peek at local authentic culture and I'm so thankful for it. One of my most memorable moments was when we passed this beautiful Bavarian home. It wasn't fancy but it was beautiful. I thought of my mom and how much she'd love it as I gazed at all of the gorgeous flowers, and the lush garden, growing beautiful food. As I was soaking it all in, movement caught my eye and I noticed the sweet older lady tending to her beans. I sat and watched as she handled her beans with such tenderness and love. She moved slow and looked so content to simply be alive and working in her garden. Something deep inside told me to remember the moment, the lesson. All of Gengenbach was such a wonderful travel experience that I'm so thankful for! What a beautiful, beautiful place.
Our second day we drove the Route De Vins (wine). The route takes you all through the wine countryside and the tiny little adorable towns.
Our favorite little town was Riquewihr. It was the cutest and the most delicious too! The shop owners were incredibly sweet and offered us tastes of their specialties. We were able to try so many local treats! We even got to taste a coconut macaroon straight from the oven. One of my favorite samples was given by the man who invited us down in to his cave where he ages his cheeses and meats. He let us sample cheese at different ages to taste the difference. What a cool experience!
We finished the Route De Vins in a little town where we had one of the best meals! Really, I can only think of a few meals that can beat it. I grew up eating German food and one of my favorite German dishes is Spaetzle (german dumpling like noodles). We found this German/French restaurant that serves spaetzle au gratin style! Spaetzle, in a cream and Munster cheese sauce, baked with Munster cheese on top! (Munster, the town where Munster was created, is down the road!). Basically it was the delicious dumplings of Germany meets the stinky wonderful cheese of France. Baked. Heaven.
We made our way back to the car after dinner and as we were walking we heard thunder in the distance. The whole sky was turning dark and lightening was striking. We saw thunderstorms in the forecast for the day but, as native San Diegans, we just ignored the forecast and assumed it would never happen. I was so excited to see a real storm! We drove straight in to it as we headed home and got an amazing show. Isabella was clapping and squealing in the back seat (mostly mimicking what she saw me doing) and pointed out her window at all of the rain and light. It was such an awesome way to end such a good day and our time in France… Now I shall head to bed and dream about bubbly, baked Munster cheese. Au Revoir!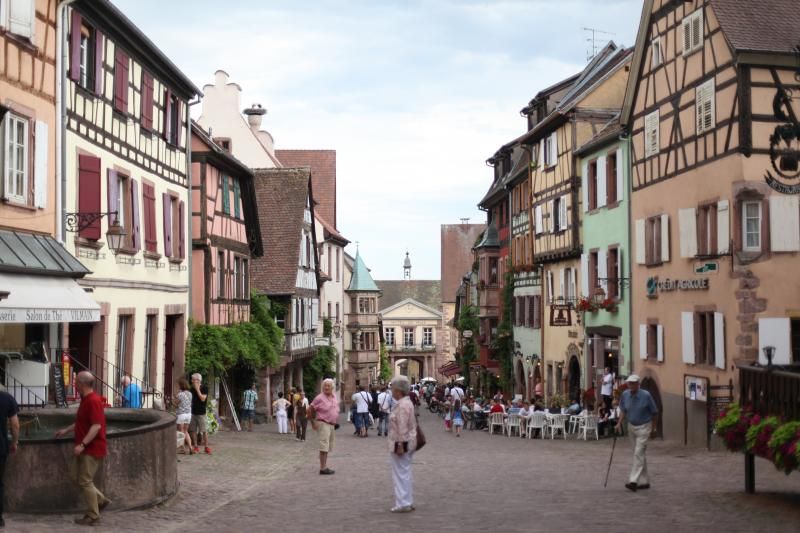 Playing in the Black Forest!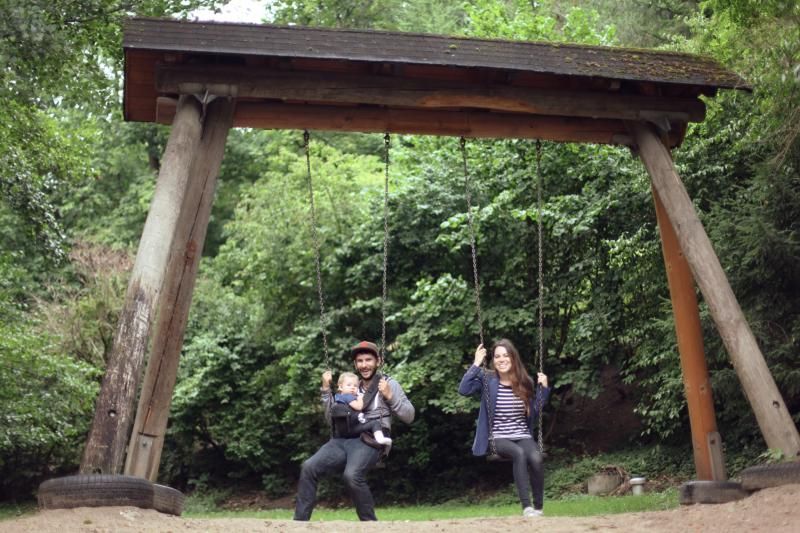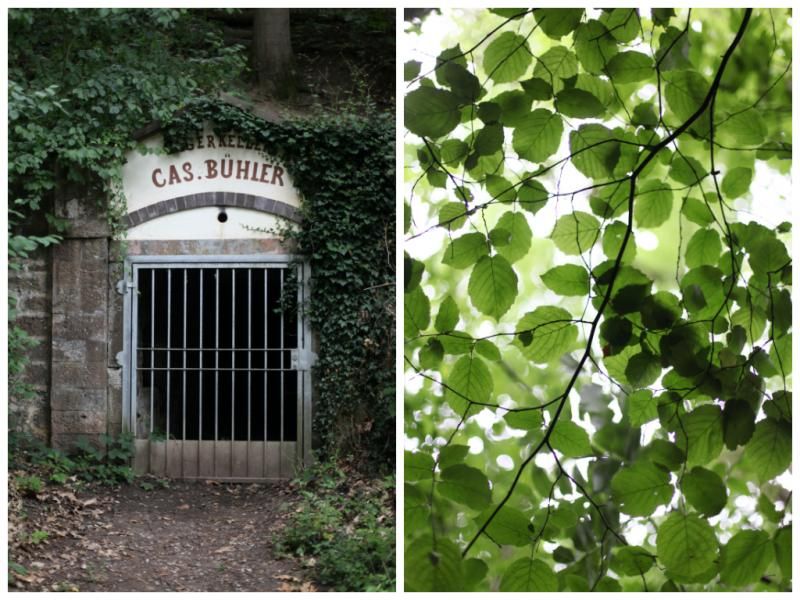 Isabella did amazing on the car rides!