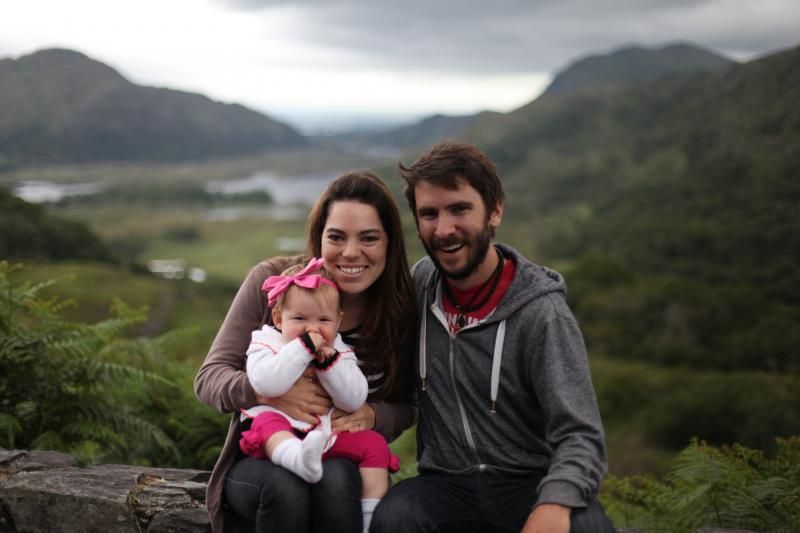 I was flat on my back in the middle of the field, my arms stretched out on either side of me, the grass was tickling my ankles, the peeps of sunshine were kissing my cheeks, and as I felt gravity push me in to the soft green land all I could think was… There is no where else on this entire earth I'd rather be in this moment. I could hear Brett and Isabella playing nearby and, as I laid in the middle of so much beauty and in complete peace, my thoughts were on heaven and our creative and loving God. That's when I realized a little about why my heart is so attached to Ireland. It's these moments.
There is a something about the majestic land, the warm people, the gentle animals that quiets and awakens my soul. I felt it when I watched the storm roll in over the water, I felt it when I laughed a deep uncontrollable laugh while watching the sheepdogs, I felt it when I was clapping and tapping my foot to the music, I felt it when I stood on the edge of the lake and gazed at the mountains towering over me, and I felt it when I laid in the middle of that grassy field. Ireland has soul you can't deny and it steals your heart.
We spent our first day in the Killarney area. We started out our morning with a visit to a farm where we watched shepherding dogs do their thing out in the fields. It was incredible! They are such smart and loyal dogs. We were blown away by them. We also met a few hour old baby lamb, learned about sheep sheering, and ate some fresh sheep cheese! We spent the rest of the day exploring places along the drive and at the national park. We had so much fun at the park walking, meeting horses, rabbits, cows, a ton of dogs, and playing in the grass. Isabella was in heaven. I think she must miss Kona too by the way she's responding to every dog she sees:)
We had a fun full day and then headed to the Dingle peninsula. This was our second time in that area and we loved it just as much as the first time. It's such a quaint adorable part of Ireland! I don't think we could make an Ireland trip and not stop in Dingle for some good music, unbelievable views, and fresh ice cream from Murphy's! Mmm Murphy's!! How can I ever decide between your sea salt, Irish whiskey, brown bread, or Irish oat flavors?!