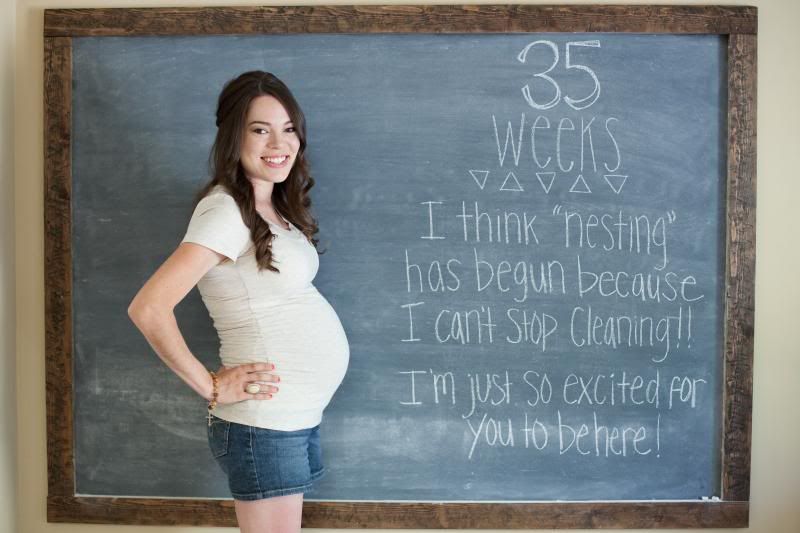 Baby Girl, I can not believe we are at 35 weeks! Where has the time gone?! I was told that it was going to slow down and drag on at the end but so far I feel like it's going faster! I know we still have 5 weeks, but as of now, I love every little bit of being pregnant with you.
Sleep is getting a little more restless. Between having to get up to visit the bathroom multiple times and not being able turn over with out waking up and hoisting my belly over, I have lots of awake time during the night. I consider it good training for when you get here!
Now that we have had our shower and your arrival is only weeks away (I can count the weeks on one hand!), you being a part of our day to day life is more real now than ever. I think the reality of that has sent me straight in to "nesting" mode. All I want to do is clean and organize. I know that not everything needs to be perfect before you get here… but I'm going to try! Haha. This week I spent 7 hours straight cleaning. I stopped to eat and that was all. Even after 7 hours, I wasn't nearly satisfied. There's still so much more to be clean and organized! We unpacked all of the gifts from your shower and started to put them in their spots in your room. We also received your car seat and stroller this week. I don't know how early is too early to put it in the car. We'll probably wait a little bit longer but I'm so excited to see it in there!
It has been a hot one this week! I've been living in shorts and tank tops and have spent a lot of time sitting in front of fans. It's a good thing watermelon is a summer fruit because watermelon straight from the fridge is one of the best things! I think you really like watermelon because I want it all of the time! Maybe watermelon is good growing food; I feel like you've been growing faster lately! Grow baby, grow! I can't believe how soon it will be before you will be here. I can't wait to squeeze your chubby little cheeks and thighs! xoxo
You are so darn loved,
Momma